by Tass on Sep.22, 2010, under Upcoming Games, Zeebarf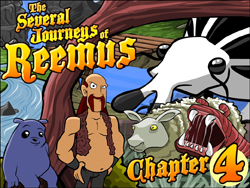 For those of you who are super nerdy flash gamers like myself, subscribed to the mailing lists of 20 different developers, you'll know that the 4th (5th?) chapter of the Reemus saga is finished. If you aren't, well, now you know. Currently, the game is only available to those who have pre-ordered ClickShake's (the merger of Zeebarf and EntropicOrder into 1 entity) upcoming downloadable, stand-alone Reemus adventure. It will become available to all ClickShake members (membership is free) 2 weeks prior to Ballad's release… and then virally distributed along with Ballads. Basically, ClickShake is using Chp4 to promote and sell Ballads and doing the whole self-sponsorship route. It's a pretty big gamble and risk (they've spent 5+ months on these 2 games already), but will hopefully pay off in spades.
I've been asked not to spoil the plot of Beastly Blackhole of Bureaucracy… but you can expect a fairly long Reemus adventure. The game is done in a mini-quest fashion, with each one being self-contained to an area (it reminded me of Another Small Favor). There are 5 mini-quests and then an ending scene with 3 different endings. As you would expect with any Zeebarf game, the art is fantastic. The music completely sets the mood. And the back and forth dialogue between Reemus, Liam, and various NPCs is fun and comical. Oh yeah… did I mention a giant beetle, a sheep, clowns, and potatomen? Only one of the puzzles will have you doing assorted trial and error, and even then, the dialogue is ever-pushing you in the right direction. Overall, this chapter is great fun and an excellent new chapter in the Reemus saga. Everyone should pre-order Ballads to play it today AND support a great indie dev team.